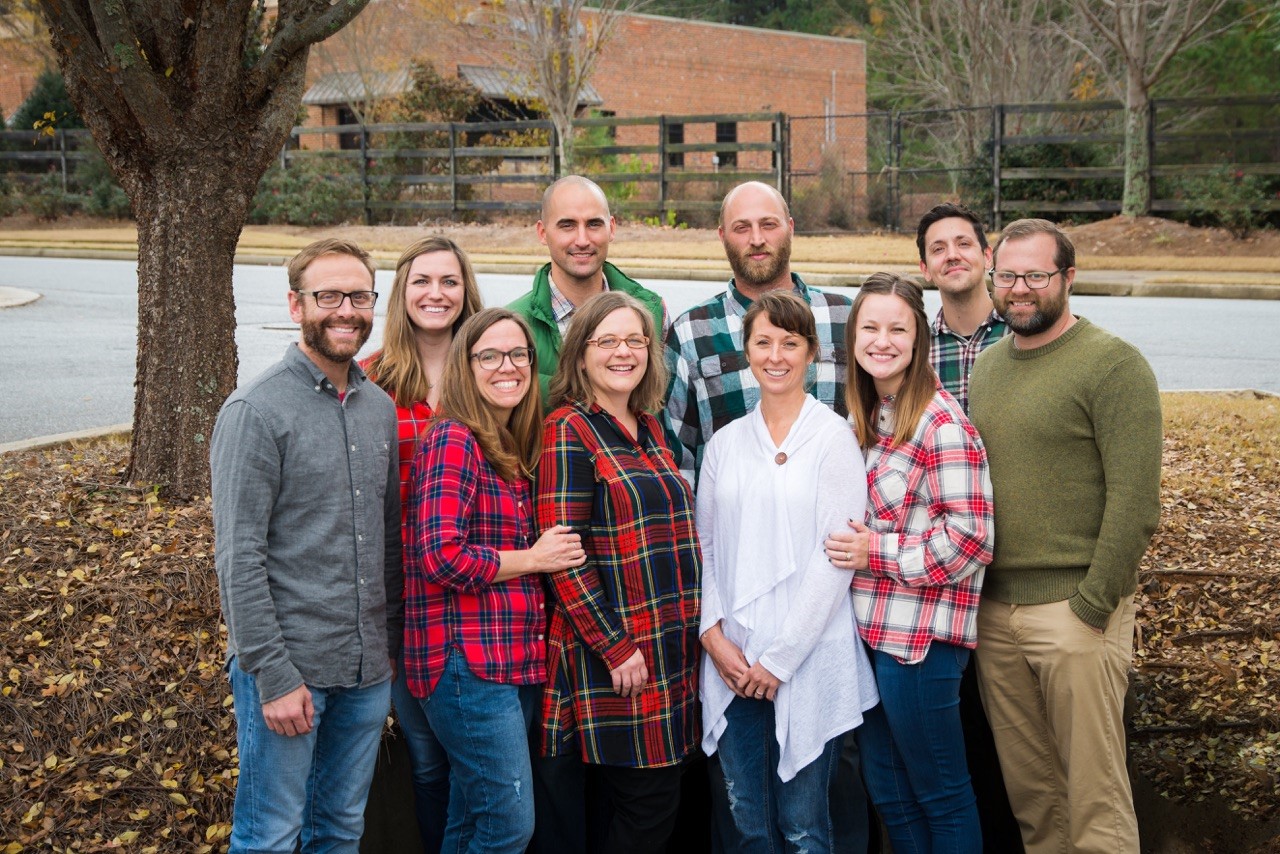 David Eldridge | Pastor
David is our faithful Pastor, mentor, counselor, and friend.  David loves people, but avoids the awkward hug at almost any cost.  He also avoids food that jiggles on the plate, sauces of any kind, and fruit in dessert.
David's passion for playing practical jokes, eating candy (especially Mike-n-Ike's or Hot Tamales), and trying to trip Kim is only outweighed by his passion for teaching God's Word and helping people discover and do their deal.
Although not sentimental, David does like a good Haiku or Acrostic.  In honor of that hidden poet, a Haiku…
Chair turned 'round, door closed
All is quiet enough for
a three minute nap.
But an acrostic tells the real story of who he is…
Devoted
Authentic
Visionary
Insightful
Disciple-maker
Bo Bryant | Worship Pastor
Because Bo is so multi-talented, he is our 'go to' guy for many things.  Just a few of his useful gifts include being tall enough to close the blinds in the sanctuary without a step ladder (or jumping), leveling the boy to girl ratio on staff, and making bare feet in church popular again…or for the first time- depending on who you ask.
With those important gifts, it's hard to imagine that Bo could bring much more to the table, but imagine it- even experience it, we do.  Bo has a deep love for the people in his life- his wife and kids, his church family, and our community.  Bo's life is one of worship, and not just because he leads us on Sunday mornings.  One of his greatest desires is to lead people into the presence of the Lord.
We'd be willing to bet that however you encounter Bo, barefoot or wearing his shoes, in worship, in a prayer setting, having coffee, or just whizzing by you on his bike, you'll know he's much more than your average worship leader.
Jeremy Morris | Small Groups Pastor
Jeremy is 'officially' a lot of things…
The tallest staff member, the only one who likes UK basketball, resident history expert, and – although we haven't made him prove it yet- the one with the biggest grocery bill.  (He has four sons!)
Jeremy's physical stature pales in comparison to his big personality and love for the people he serves.  Jeremy, always ready with a funny story to tell, is a natural gatherer and can make even the staunchest introvert feel they want to be a part of whatever he's involved in.
Armed with a passion for God's Word and a desire to see people connect in community, Jeremy is a force to be reckoned with as our Small Groups Pastor.  In other words, if you're not in a group yet, you will be soon!
David Scott | Student Pastor
What do things like Whirly-ball, Four-Square, and Rock Climbing have in common?  David Scott.  What do community that feels like family, authentic relationships, discipleship in its purest form, and transformation of lives have in common?  Also- David Scott.
It's been said that to be a good Student Pastor one has to think like a 12year old.  If that holds true, then what does it mean for a great one like David?  Being stuck in a middle and high school mindset might explain some of the messiness, but more importantly, it explains why he "gets" those in our body that few others understand.
As a former thespian, David has a knack for the dramatic (check out his weekly online videos to students), but is most passionate about the students he leads experiencing the presence of God in their lives.
Kalie Freeman | Student Ministry Assistant
Kalie is by far the youngest member of our staff, but she never uses that as a crutch; nor does she make us old fogies feel out of touch.  She has plenty of ammunition to use in this arena since one of our pastors (to remain unnamed here) knew her as a little girl, working with her dad.  This same pastor was one of her high school teachers.
Kalie's abilities and talents are beyond her years, and we benefit from all of them.  Leading worship, leading discipleship groups, organizing big events, and…not least of all…helping David Scott stay organized are just a few of the ways Kalie helps StoneBridge.
We try not to make fun of her vegetarian lunch orders or her ability to quote sitcoms, while she tries not to point out our extensive knowledge of shows that came on TV before she was born!  Differences in ages (and decades of life) aside, Kalie is an asset to our staff.
Katie Leverett | Children's Ministry Director
Katie's ministry experience ranges from watching her mom serve on a church staff most of her life, as well as serving herself in campus ministry while in and after college.
Her ministry experience is only one thing that makes Katie great in her role.  Take into account that Katie taught middle school for 6 years and you'll understand why we think she is capable and brave enough to take on all the tasks of her job. (Have you spent time with middle-schoolers lately…not for the faint of heart!)
Besides her obvious qualifications, we love having someone on staff who is young but yet boasts proudly of her "old-lady" hobbies- including puzzles, gardening, knitting, baking, and playing board games.  If given the chance to add to her list, we may include 'puppet master' since her dog Rupert is as close to a live Muppet as we've ever seen!
Ginny Fobes | Children's Ministry Nursery & Preschool Area Leader
Don't let Ginny's quiet demeanor fool you. Below the surface roars the heart of a lion; a lion passionate about seeing people's lives changed by God. Ginny loves fiercely her three children and husband, and also anyone she shepherds.  And that's just what she does…shepherd.
Ginny would readily admit she is not too fond of anything related to technology, but she sure has all the techniques needed for relationships (see what we did there?).  Whether she is ministering to new moms in our nursery, comforting upset preschoolers, or teaching a large group lesson, one thing is certain, Ginny will do it with all her heart because her heart is FOR those she serves.
Maggie Bowling | Children's Ministry Elementary Area Leader
Maggie is a natural story-teller, doesn't mind a good messy game, is an Instagram aficionado, and loves to see kids' eyes light up when they hear about God.  Besides her voracious reading habit, Maggie spends most of her time taming the busy lives of her four children.
Maggie may be one of the newest members of our staff, but she is no stranger here at StoneBridge.  As one of the "firsts" when StoneBridge began, Maggie has served in many ways from the beginning.  Whether leading a small group of kids, students, or adults, Maggie is passionate about shepherding the hearts of people.  No matter what age, our people are lucky to have Maggie leading the way.
Kim Kremer | Ministry Coordinator
Kim loves to run…or out-run anyone. Kim also loves playing games, spending time outdoors and lifting heavy things.
Kim laughs at jokes that aren't even funny, buys soft drinks even though she doesn't drink them, and can organize a closet or cabinet better than Martha Stewart.  The words, "I can make it fit" are often heard if Kim is in charge.
As the "manager of all things" Kim is the first and last point of contact for all things StoneBridge.  We love her and couldn't do ministry without her.  Besides, we need her because she's the only one who knows where the light bulbs are kept!
Ready to join us?
At StoneBridge, we are committed to seeing our community transformed by God. We invite you to join us in this journey of personal and community transformation.
Learn More